After the first discussion, we had a second chat with three amazing sound explorers and global thinkers from the 'MENA' region.

Sarra, Souma and Yara had a bouncing conversation on different topics. Similarly to our previous talk, discussions flew through musical layers navigating on questions linked to gender, intersectionality, access, the future of music…
Our three guests dug into their experiences on the stage and around to complexify the mentioned realities.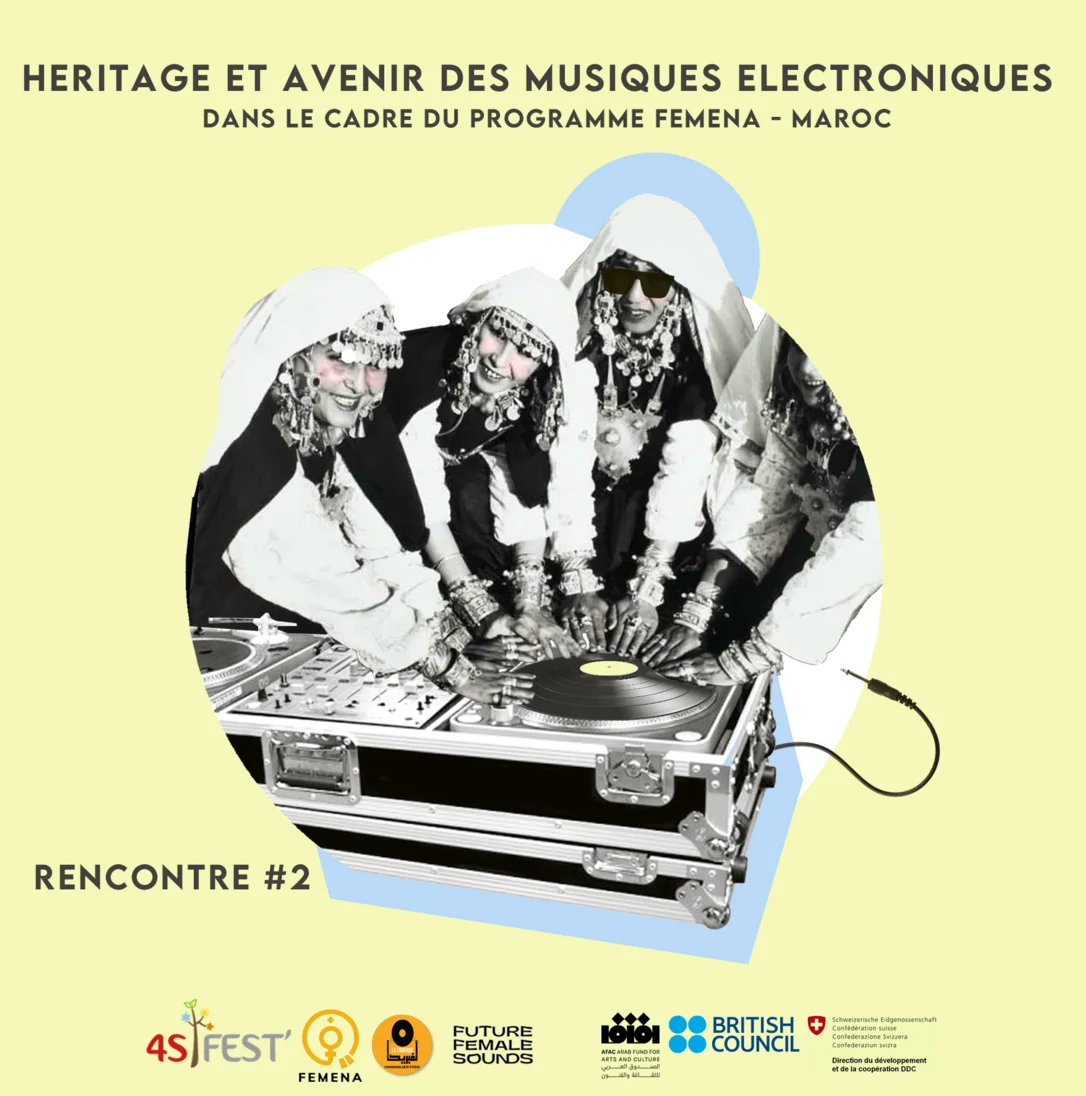 Sarra, Souma and Yara come from different contexts.
Representing the North-West-African diaspora in the UK, Sarra is an Algerian-Moroccan-Senegalese mix and gives a lot of importance to connections that could be built between the diaspora and the 'motherland', for their voices to be heard.
Yara is based in Cairo, she has been exploring sounds to better understand her own journey through her identities. She has also been building interest in African musicalities.
Souma is a music producer and label founder, she is very active when it comes to promoting female talents in the electronic music's spaces in Morocco. She uses different instruments, native ones especially, that she includes in her musical productions.
The first discussion portal was opened on the role and spaces of women and gender-minorities. Our three protagonists agreed on the fact that many aspects have evolved but that there is still a long way to go. Sarra mentioned the example of a fierce Dj, whose origins are Moroccan and who's based in New York; for her, Bergsonist illustrates the above-mentioned wave of change. Yara had a rather frustrated point of view and emotions to share as she has been following the declining number of women who are present on the musical stage in Egypt.

She nostalgically recalled her university years, where the feminine power was very present on different layers of music and art. She also stressed the importance of factors like money, promiscuity with the government, family support… When it comes to accessing the industry, those factors play a more central role than the quality and efforts made to research sounds.
..the importance of factors like money, promiscuity with the government, family support…

For Souma, lack of producers and limited access to the infrastructure and equipment required to play and create characterize the region. She added an interesting perspective on the domination of producers and sound designers from "the north" which makes it difficult to find adapted samples and sounds.
The conversation then sailed towards cultural and musical heritage.

Comments were aligned on the hegemony of 'western music' that homogenizes tastes and musical offers even in North-Africa. The greatest irony, as pointed out by Sarra, is that even in the case of dominant styles like house and techno that have taken rather linear shapes and are associated with the west, there is appropriation. She shared an anecdote from a gig in Morocco where she closed her set with a tune from the legendary Cheikha Rimitti (may she rest in power).
People were rather shocked … That was out of "the framework"!
The only way to reverse tendencies or open horizons is to keep playing sounds from "the source"; the more people, listeners as well as producers, will be exposed to them, the more they will integrate the framework (or explode its lines). Yara complemented the perspectives on the responsibility of artists from the MENA region or more broadly from Africa to preserve and promote their heritage, orienting towards the necessity of knowing where you come from and also your neighbors, before going to dig from other lands, especially when these latter are already dominating the space. The three participants agreed on the possibility and beauty of mixing genres, beyond borders in all their forms. Even if it is hard to find places and people who appreciate them, as expressed by Yara when she said: "there is no place for me at home".
La question qui se pose donc est peut-être la suivante : y a-t-il de la place ailleurs, en Europe par exemple ?

The question goes as: are there more places outside, in Europe for example? It is true that the old continent is considered as a dream by many, as explained by Yara, the solutions to multi-layered suffering… But it is actually very hard too to live as a diaspora. Sarra pointed out that it is still a very patriarchal world everywhere and, in northern countries, racialization processes add to it.
Discussing heritage and connections with the West/North naturally brings the topic of cultural appropriation. For Souma, the stake is that of giving credit. Sarra pushed the discussion further: it is crucial to make sure that people from the communities whose sounds are used are well represented, invited and given access to the spaces where the creations are performed.
Usually, only some easy layers are taken, a certain representation of North-African sounds and cultures, often confused with Middle-Eastern ones, recalling our discussions on exoticization during the first podcast. The same historical dominators get to decide who is the right North-African, who can represent.
Yara resonated well with this point as she shared an experience in Berlin where she came across a poster promoting a Dj who was given the status of the only one in Egypt… While there are many!!!
There is still much to do for a brighter future. A female future? That is what Souma desires. As for Yara and Sarra, they hope for an intersectional turning point and for "everybody at the bottom going up". The concluding words of Yara were a needed poetic chute: "We need to refresh the water, go to the ocean and take fresh water. We are people living in a white noise, crossed fingers, that we'll find some new melody."
Excerpts from meet UP #2: